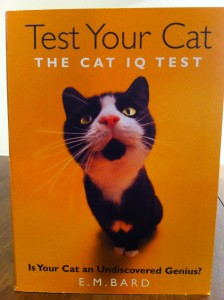 I picked up a great book today written by E.M.Bard. What made me smile was that not only can humans be measured psychometrically – but so can cats!
Anyone who has been to Psycuity Tower's will know that we have an office cat called Max. It's been amazing to find just how many of our friends and customers have office pets including none other than Pets at Home who even have a "Bring your pet to work day!".
Bard writes in the introduction "Anyone who has ever owned a cat has at one time or another been amazed at his pet's natural abilities and wisdom." He goes on to explain that to measure the overall intellectual development of your cat, there are four main areas of development that, when taken together, make up  your cats intelligence:
1. Co-ordination Skills – This includes the use of small and large muscles, how your cat moves and balances, his reflex actions, body sensitivity and control, and his preference for using one side of his body over another.
2. Communication Skills – This area of cat development deals with the pet's ability to make himself understood or to get attention. cats are able to gain attention by using both their voice and their bodies. Communication skills measured here include voice level and intensity, and your cat's ability to understand directions.
3. Reasoning Ability -This is perhaps the most difficult area to measure. It involves testing how your cat solves the various problems he encounters and how he adjusts to his surroundings. Your cat's alertness, concentration and reactions to dangerous situations are also measured.
4. Social Behaviour -This includes a wide range of both personal and social skills that are developed and used by your cat. The way in which your cat gets along with you, other people and other animals is an important indication of your cat's overall intelligence.
So the plan is to test Max in the next week or so and report back with results!
BROWSE / IN

Interesting Stuff Psychometrics