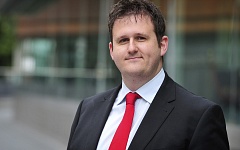 There are very few TV programmes that I'll make time to watch specifically when they're broadcast (come back 24, all is forgiven!) but "The Apprentice" is a major exception, even as it becomes more and more of a contest to find the candidate most willing to humiliate themselves for Darth Sugar's approval. In particular, the last series introduced us to one of the best characters that the show has had to offer – "Stuart Baggs: The Brand".
You could almost hear the nation cringe. Baggs wasn't short on self-confidence and arguably was short on common sense, but he also (believe it or not) had a point. A large part of my working life is spent engaging with clients and any number of other contacts over social media channels, and I'm by no means alone. Besides the fact that I'm a self-confessed geek, many of the businesses I work with have integrated social tools into their business models – especially in the creative sector.
Why? Because social media is more than just a passing fad; it's a fundamental shift in the way in which we communicate with each other and the wider world. Ask Marc Zuckerberg – 600 Million Facebook users can't be wrong. The ability to create content, whether in video, text, mp3 or any number of other formats, and distribute it to a worldwide audience through YouTube, Facebook, Wordpress, Hulu, Audioboo and other platforms means that for the first time there's no real barrier to entry in getting what you have to say heard by millions. Building your own online brand has never been easier.
Take LinkedIn – described by many as "Facebook for Business", the site allows you to build your own profile around your career, experience and expertise and lets you connect with other users to build a very powerful network of referrers, colleagues and even future employers; LinkedIn lets users advertise vacancies and is already full of recruiters looking for candidates. It is, in effect, your own personal website. If your profile is updated regularly, it'll end up near the top of search engine results when users go looking for you. It's worth spending time on. It's far easier for a potential employer to look you up via Google than fall back on unreliable Chinese whispers from people who know you.
Then there's YouTube –cameras are cheap and videos can be edited to a high standard and uploaded in minutes; more and more candidates are posting video CVs. Employers seem to like them – a survey for recruitment website Vault.com found that 58% of employers would watch a video CV.
As usual, the marketers are way ahead of the rest of us. In May last year, Brandrepublic reported on the story of Alec Brownstein – a copywriter who used Google's Adwords pay-per-click advertising product to target creative directors in advertising agencies and find himself a new job. Investing 15c per click ensured that when agency power brokers googled their own names they got a message from Brownstein asking for a job. All but one of the agencies he targeted called back, and Young & Rubicam offered him a job. Brownstein played to the egos of Madison Avenue and won.
There are any number of attention-grabbing options open to the tech-savvy candidate, such as Facebook Ads, individual websites, Twitter feeds, video messages and so on. However, there's also a flip side. If your current employer likes to keep tabs on you, who's to say that they won't come across your YouTube Video when a Google Alert can feed every link that mentions your name into their Inbox? Who knows if the "interesting" pictures on your Facebook page won't factor into a decision on whether or not to employ you?
Broadcasting your intentions to the world at large isn't always the best idea but at least some of the content which you put on line can never be held against you in a recruitment process and could lead to a discrimination claim or a breach of the Data Protection Act – Employers will normally need to tell you if they plan to use online vetting and the process has recently been made illegal in Germany.
Like anything else, common sense is the best filter on any online content and the best rule of thumb is not to do put anything online that you wouldn't want revealed offline. There are risks, but the opportunities almost certainly outweigh them. With a little investment in time and perhaps a small amount of your own money, your CV could be doing far more than just clogging up a future employer's E-Mail.
But who's watching the watchmen? Social CVs can work extremely well for candidates, but employers may be distracted by a flashy presentation to the point that the wrong kind of person ends up in a tightly-knit team, affecting group dynamics and ultimately the business.
The only way to be absolutely sure of what you're getting is to carry out real human due diligence on future employees, which is where Psycuity comes in. I've been tested by them and can tell you that the process works – their report on me was part of the raw material of several business plans and informs the way I work and look at any opportunity. It delivered real insight, and in a world where everyone can use technology as a sales tool, it can do the same for any business. Just because a candidate is "sociable" online doesn't mean they will be in the office, and now more than ever employers will need to look more and more closely beyond a "personal brand" to the real person behind it.
BROWSE / IN

CV's Friends Recruitment Uncategorized