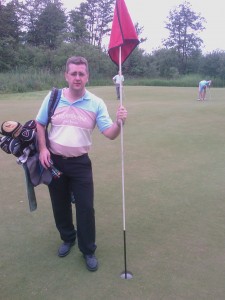 Psycuity, one of the Northwest's most interesting start ups today declared war on the global gases giant Air Products.
Whilst there was plenty of marching and a good proportion of time spent in the bunkers, "war" would be seen to many as a slight over exageration. However, to Psycuity MD, Philip Hemsted and Air Product's, UK Major Accounts Manager (Metals and Glass) , Pete Keena "war" was an understatement as they fought in the first of their two match play golf competitions held at Wychwood Park Golf Club.
Being the club Captain and playing on his home track Pete had a tremendous front 9 holes and was leading by 3 holes as they changed ends. How ever Philip "Tiger" Hemsted really put the effort in on the back 9 and they were level going into the final hole. With a very nerve wracking walk up to the club house, it was Pete who prevailed taking a 1 up lead into the second leg at Delemere Forest Golf Club. At the end of a hard fought contenst Philip commented "Pete was a tough opponent and I certainly had my fair share of luck today on a track that was surprisingly tough, besides that the boys form AP will be joining us on our Negotiations courses later this year so I had to let him win really".
Pete's Comments were equally as complementry "Lucky so'n'so, I had him on the front 9, I suggest Philip goes and buys 3 lucky dips tonight after that round!, Joking aside, I'm not sure 1 shot up will be enough, but it gives me something to protect in the second leg".
For those who want to analyse Pete's swing, you can watch his Captain's drive-in here.